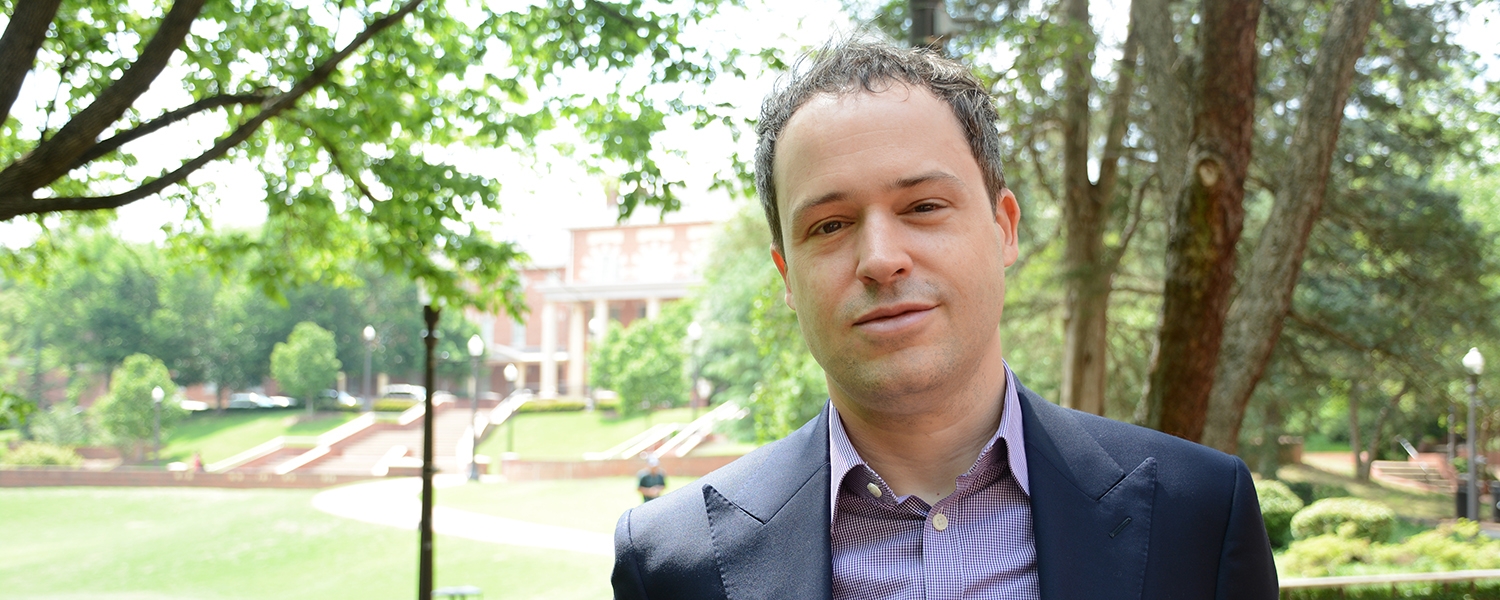 One Alum's
Inflection Point
Things have changed quite a bit for Ted Kemp since his younger years in Gastonia, North Carolina. As he puts it, he's no longer the kid "kicking around the red clay" in his hometown — afraid to leave home and afraid of the big city. Afraid of traffic.
"Really, I was!" he says with a smile.
The managing editor for CNBC International Digital, Kemp now lives and works thousands of miles away, in Singapore. He directs editorial content for the network's overseas bureaus, stretching from London to Beijing. And he travels around the world, not only for his day job but as a book author and documentary producer.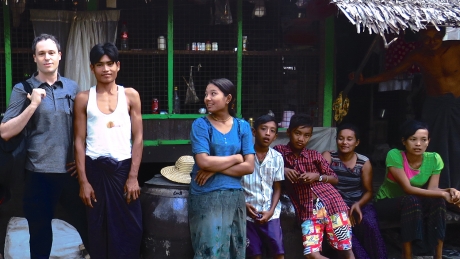 Kemp says the "inflection point" on his journey from timid teenager to accomplished journalist was coming to NC State. On the way to earning a bachelor's degree in English in 1992, Kemp says he took humanities courses in literature, history and philosophy that challenged him to think in new ways, with a breadth he didn't even know was possible.
"It was a radical shift for me at 18 years old," Kemp says. "I started to expand my mind and wanted to keep expanding it more and more, broader and broader."
In the CNBC newsroom, Kemp says his ability to look at issues from afar and from different perspectives helps him manage coverage around the world. His broad lens also allows him to focus on multiple projects at the same time, both at the network and beyond.
"It has served me well to think in that broad sense and try to pull together these big ideas and underlying dynamics, and that all started at NC State," Kemp says. "I owe that to this school, unequivocally."
Building a Career in Storytelling
After graduating from NC State, Kemp went on to earn his master's degree in journalism from the University of Illinois. From there he landed an internship with the Dow Jones Newswires, where he cut his teeth as a markets reporter. "That job has really shaped me since; its practices lend themselves to the internet and breaking news," Kemp says.
"I would encourage all students to get an internship — get more than one if you can," Kemp adds.
It has served me well to think in that broad sense and try to pull together these big ideas and underlying dynamics.
Kemp joined CNBC in 2006 as part of the network's original online launch team, a process he related to joining a startup. He's thrived at the network ever since, with promotions to chief of CNBC's London bureau, senior editor of markets and finance and now as managing editor of CNBC International Digital.
"Our approach is that business is happening all the time — markets are always open somewhere — and we want to be able to cover them and talk about them around the clock," Kemp says. "We never turn off."
One of Kemp's favorite stories during his time at CNBC is an exposé on piracy in commercial waterways near the Singapore Strait and the Strait of Malacca — a piece that allowed him to apply his background in economic news to a larger global issue. Kemp is building on that story with a new one-hour documentary he's producing on the fishing industry's use of modern slavery and ecosystem-destroying practices in Asia.
The Ragged Edge
Kemp says he does his best work when he's busy. A good example of his multi-tasking ability is The Ragged Edge, a book he co-authored with United States Marine Lt.-Col. (ret.) Michael Zacchea. The book, released in 2017, details Zacchea's experience building and leading the first Iraqi Army battalion trained by the U.S. military.
The project started about a decade ago, when Kemp learned of Zacchea's story while living in New York and studying literary journalism in Baltimore. Kemp says he thought it was "a different kind of war story," and set up a meeting with Zacchea at Grand Central Station to learn more. Talking over pizza, they realized within the first five minutes they would be collaborating.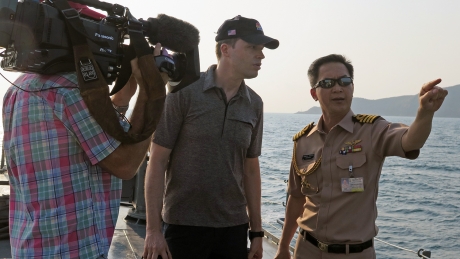 "It started as a story about him, but it grew into a story about two armies — the American and the Iraqi," Kemp says. "And as an extension of that, it grew into a story about four cultures: the Kurds, the Shiite Arabs, the Sunni Arabs and the Americans.
"It's really a story about how you take cultural animosities between those groups, some thousands of years old, and turn them into a cohesive unit."
Kemp's research for the book included dozens of interviews, with Zacchea and others, and poring over documents, news reports and military information. "I took a sort of journalistic rigor and tried to apply it to one man's memoir," he says. The end result is a very personal story, framed around Zacchea's difficult mission, but ultimately about people.
"You can get readers into the minds of a character, get them to love an individual, and then — without them really knowing it — teach them something," Kemp says. "We're trying to make these guys real in that way, and I hope we've done that."
Kemp's goal with all of his projects, in the U.S., Singapore and beyond, is to help people learn something about the world — to help broaden their perspective. It's a fitting career for a guy who once feared leaving his hometown. Who knows where the next story will lead?