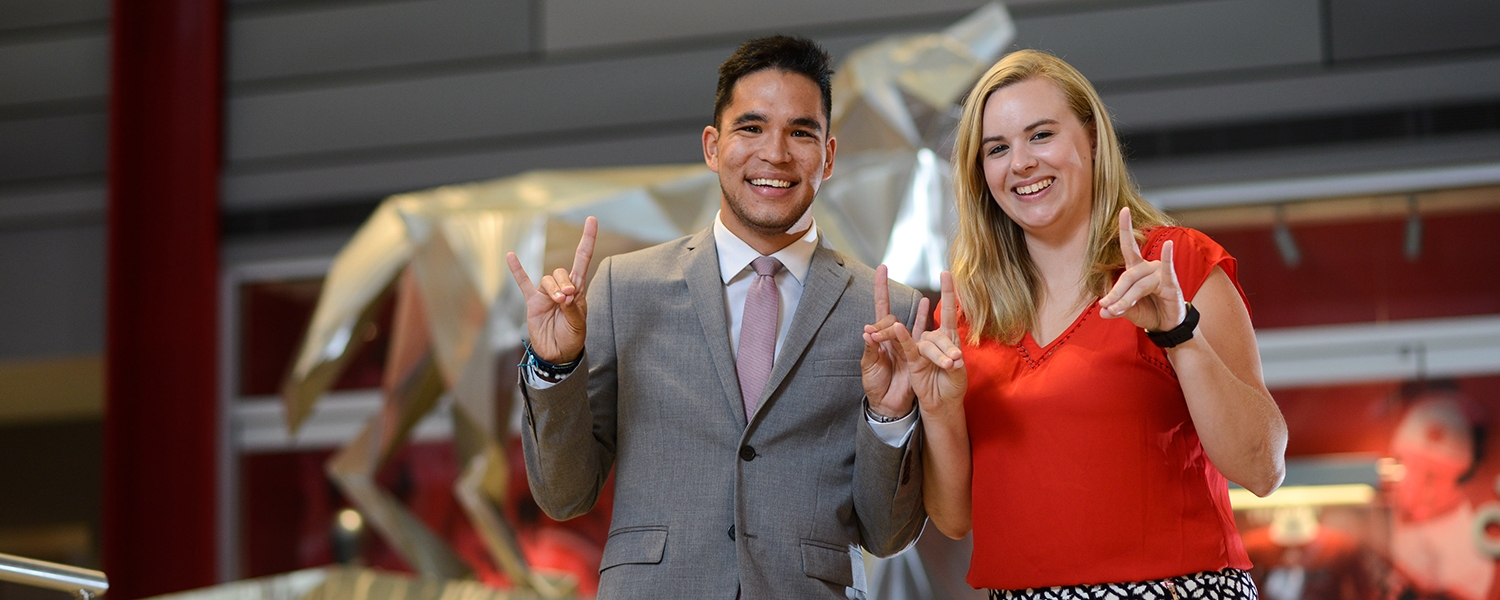 Helping Students'Dream Big'
The friendship between Bryan Hum and Laura Wilkinson can be traced back to a laugh.
It was 2009, during freshman orientation to NC State, when Hum and Wilkinson were strangers in a crowded auditorium of 17- and 18-year-old students. They remember sitting near each other when one student raised her hand, stood up and asked a silly question — essentially, "Which dorms allow the most nefarious activity?"
Hum and Wilkinson couldn't help but giggle, drawing attention to themselves and each other's presence. They've been close ever since. At NC State, Hum and Wilkinson leaned on each other to build impressive resumes through a shared major in international studies and a long list of internships, jobs and extracurriculars. "I'd take notes if Bryan couldn't attend a class; Bryan would sign me in if I was running late," Wilkinson joked. "We really did work as a team."
We really want to impress upon students that you can do so much with your NC State degree.
Their partnership has remained strong into their professional careers — and current NC State students will soon see the benefit. With a desire to create additional support and mentoring opportunities for Humanities and Social Sciences majors, Hum and Wilkinson recently created a new award for undergraduates: the Wilkinson-Hum Government Scholarship. The merit-based tuition scholarship is designed to support juniors and seniors interested in careers in the federal government, national security, the intelligence community, international affairs, public policy and law.
Hum and Wilkinson both work in the government sector in Washington, D.C., a career goal they shared in school. They hope the scholarship will serve as encouragement to students with similar aspirations.
"We really want to impress upon students that you can do so much with your NC State degree," Hum said. "Dream big."
And for the two friends, giving back means more than donating their dollars. They hope to serve as mentors to the scholarship recipients and add a few new members to their "team."
"We geared this toward juniors and seniors because they are going to be looking for jobs soon," Wilkinson said. "We want to be there to guide them and answer questions they may not even know to ask."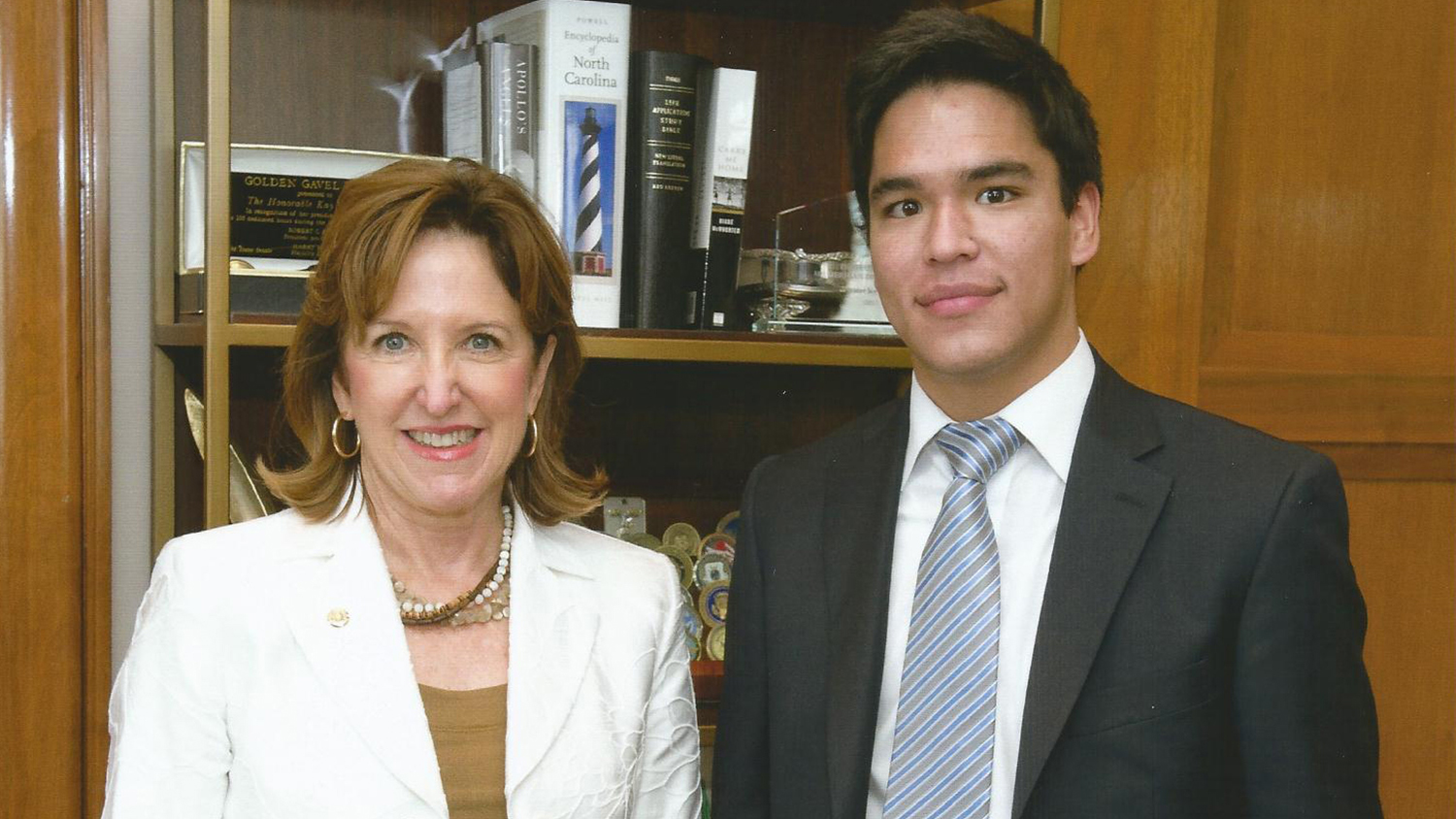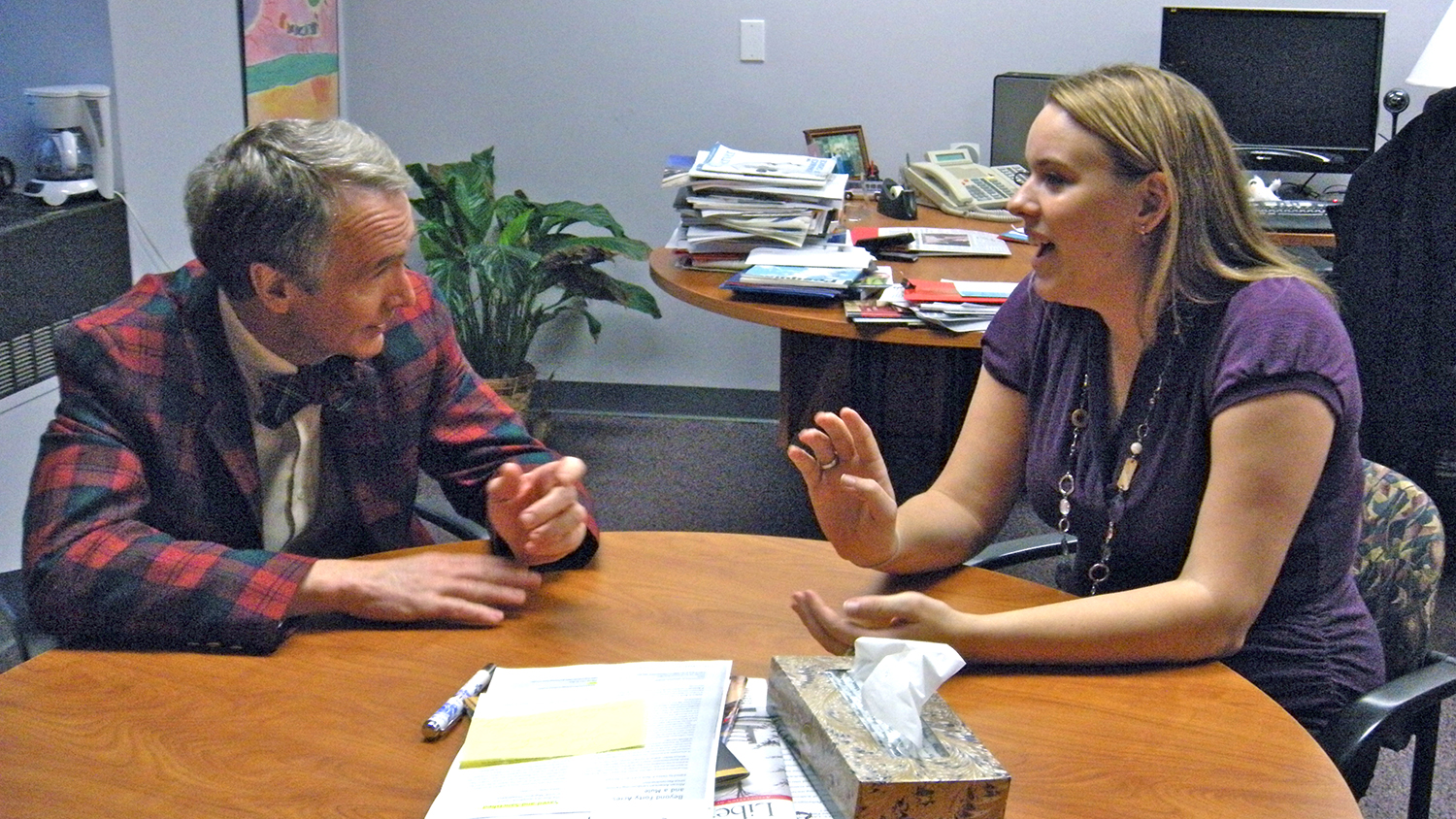 Students would be lucky to have Hum and Wilkinson as mentors.
In 2013, Hum earned degrees in international studies and political science from NC State, where his involvement outside the classroom ranged from the Humanities and Social Sciences Dean's Advisory Board to the Fusion Hip-Hop Dance Crew. A recipient of the college's Latta Washington Internship Award, he also interned for former United States Senator Kay Hagan. After his time in Raleigh, Hum enrolled at Albany Law School while balancing a handful of internships and jobs in New York and D.C. He graduated cum laude with his law degree in 2016, passed the bar and earned a position at The ERISA Industry Committee, a trade association that represents the nation's largest employers on health, retirement and compensation. An associate with ERISA, Hum works as a state lobbyist for retirement and state compensation policies.
Wilkinson graduated from NC State in 2013 with degrees in international studies and criminology. A member of the University Scholars Program, she served as editor in chief of the student newspaper, Technician, and won the 2012 Humanities and Social Sciences Dean for a Day competition. She interned for the United States Attorney's Office her senior year, and after graduating enrolled in George Washington University's Security Policy Studies program. Working as a research fellow at the Intelligence and National Security Alliance in conjunction with her studies, Wilkinson earned her master's degree in 2015. Today, she works as a cyber-risk consultant at Deloitte, a cybersecurity contractor for the federal government.
Passion for the Humanities and Social Sciences
The Wilkinson-Hum Government Scholarship adds to the critical resources available specifically to Humanities and Social Sciences students.
Your Gift Matters
Join Hum and Wilkinson in helping support our students, faculty and programs
Hum and Wilkinson say it was important for them to give back in a targeted way, to disciplines they're passionate about. They're both appreciative of the experiences that broadened their outlook at NC State, such as the international studies program's requirement to study abroad. "You start to not only be cognizant of what's happening around you, but also what's happening around the world," Hum said of his experience overseas. Hum studied abroad in Lille, France, during his junior year —  the same time Wilkinson was in Valencia, Spain.
Looking back, Wilkinson said she's appreciative of the interdisciplinary perspective she gained through her Humanities and Social Sciences degree, in addition to the practical public speaking, writing and interpersonal communication skills she learned.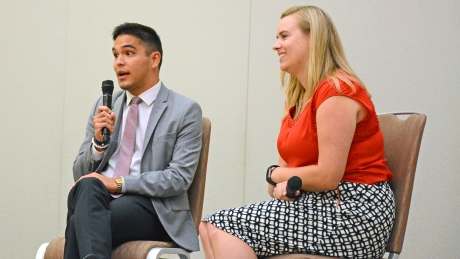 "People will say, 'Well what can you do with a degree in the humanities and social sciences?' And really, you can do anything," Wilkinson
said. "I know that sounds very cliche, but you really can. I didn't take computer science or computer engineering, but I work in cybersecurity."
Hum agrees.
"As a Humanities and Social Sciences student, you become a versatile, adaptable individual with transferable skills because you get a wide array of classes and skillsets," Hum said. "We know we're able to adapt and grow more than other disciplines, and that makes us indispensable.
"The humanities and social sciences are built into everything. They're the things you do every day, and that's why they are such a critical component of this campus."