Athletics
NC State's athletes are taking home championships — and excelling in the classroom with a record-high graduation success rate.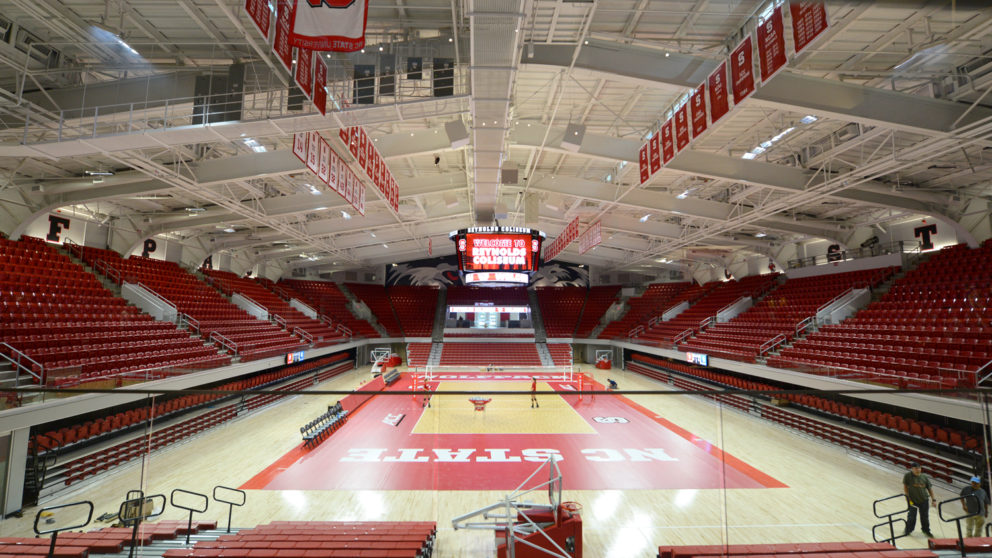 Championships are returning to NC State athletics, and the university's sports facilities are ready. Reynolds Coliseum is fully renovated, the new Close-King Indoor Practice Facility awaits the football team and all the components are in place for continued success both on and off the field.
The Wolfpack men's and women's swimming teams both won ACC championships for the first time in the same year since 1980. For the men, it was the third league title in a row, the 27th in school history and the second consecutive fourth-place finish at the NCAA championships, where the 400 relay team won a national title.
The women's cross-country team also won a league title, their 22nd in school history. Both the men and the women won the NCAA southeast regional championships, and the women finished fourth overall at the national meet.
Outside varsity competition, rifle star Lucas Kozeniesky won a USA Shooting national air rifle championship, and swimmer Justin Ress won a U.S. national individual title in the 50-meter backstroke at the USA Swimming world championship trials.
Both women's cross-country coach Laurie Henes and women's basketball coach Wes Moore were named ACC Coach of the Year in their sports, reflecting their successes in individual and team development.
New leaders in men's basketball (Kevin Keatts), men's soccer (George Kiefer), men's tennis (Kyle Spencer), men's golf (Press McPhaul) and gymnastics (Kim Landrus) have come on board to make their mark against the best that intercollegiate athletics has to offer.
The Pack remains strong in the classroom, maintaining its highest numbers ever in both the federal graduation rate and the graduation success rate.