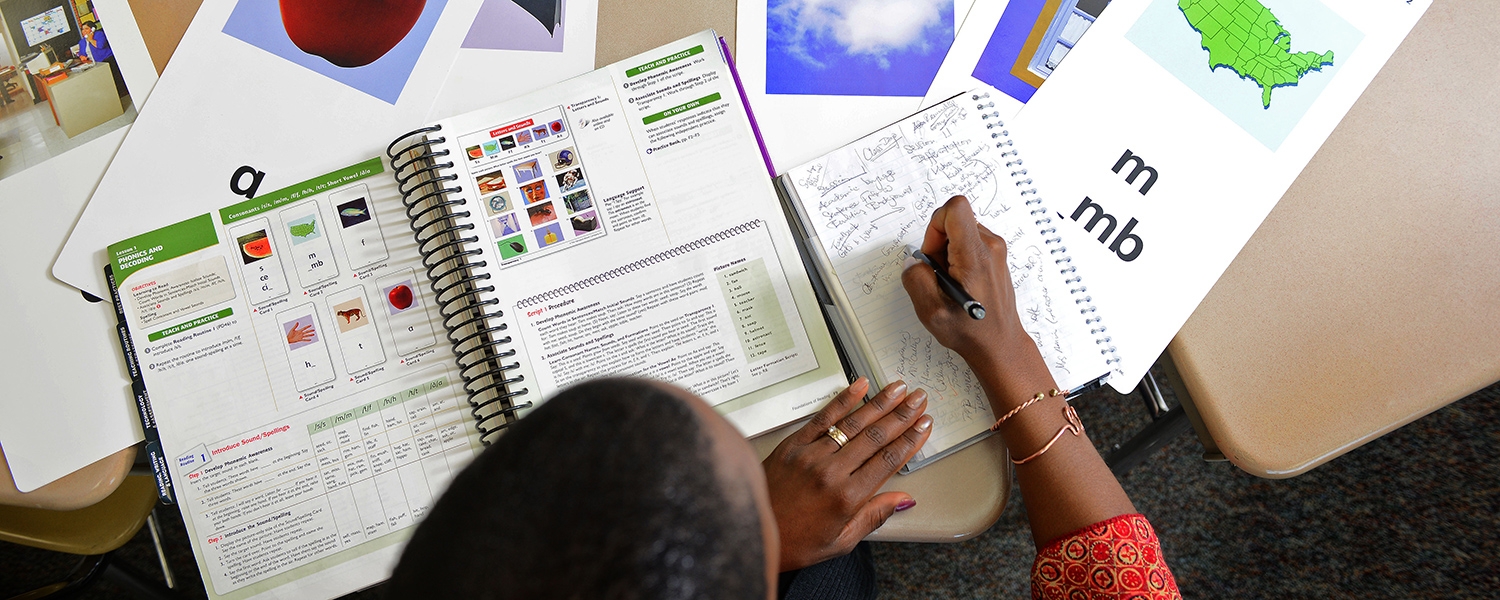 Creating Global Community
We share a common human urge: to communicate with each other. If you've traveled to a foreign country, or tried to learn a new language, or struggled to talk with a non-native speaker who has little to no English vocabulary, you know just how challenging that can be.
The challenge is real and it's growing: the U.S. Census Bureau says the number of people who speak a language other than English at home has nearly tripled during the past three decades. That figure vastly outpaces the nation's 38 percent population growth.
According to U.S. data released in 2013, some 60.6 million people — or nearly one in five people in the U.S. aged 5 or older — spoke a language other than English at home in 2011.
1 in 5 People in the U.S.
Graduates of NC State's English as a Second Language (ESL) programs help non-native speakers overcome linguistic barriers in their personal and professional lives. As the programs prepare teachers to bridge language gaps, they foster a global community abroad, across the state of North Carolina and on our own campus. NC State's ESL programs:
Prepare teachers for licensure as ESL public school instructors in North Carolina.
Train and certify instructors to teach English abroad, from Japan and South Korea to Costa Rica and Mexico, as well as with immigrant communities in the United States.
Welcome thousands of business professionals, travelers and prospective students from around the world to our country, our language and our culture through the Summer Institute in English, now in its 53rd year.
Help NC State's non-native speakers — visiting scholars, international students, and facilities workers alike — gain confidence and skills in communicating in English.
"We serve the world, the state, and our own students, faculty and staff," says Jillian Haeseler, director of the ESL programs. "NC State's ESL programs prepare professionals to better serve the needs of language learners in a variety of teaching and learning contexts, both locally and globally."

Certificate Prepares Global Ambassadors
Cecilia Tomasatti stands before her class of adult learners, grinning with encouragement. "The verb you chose, Gloria, is 'clean'? Great!" she says.
She nods as Gloria slowly begins to conjugate. "I … clean. You … clean. She … clean."
Tomasatti gently explains again that in English, unlike Spanish, the third person singular requires an "s". Other students murmur as they practice their own verbs: Rake. Wash. Mow. Weed. Recycle.
They are NC State housekeepers and groundskeepers, working hard to grasp the most basic English concepts. Most speak little to no English. Their class is part of a pilot project initiated between the university's facilities unit and the Department of Foreign Languages and Literatures' English as a Second Language program.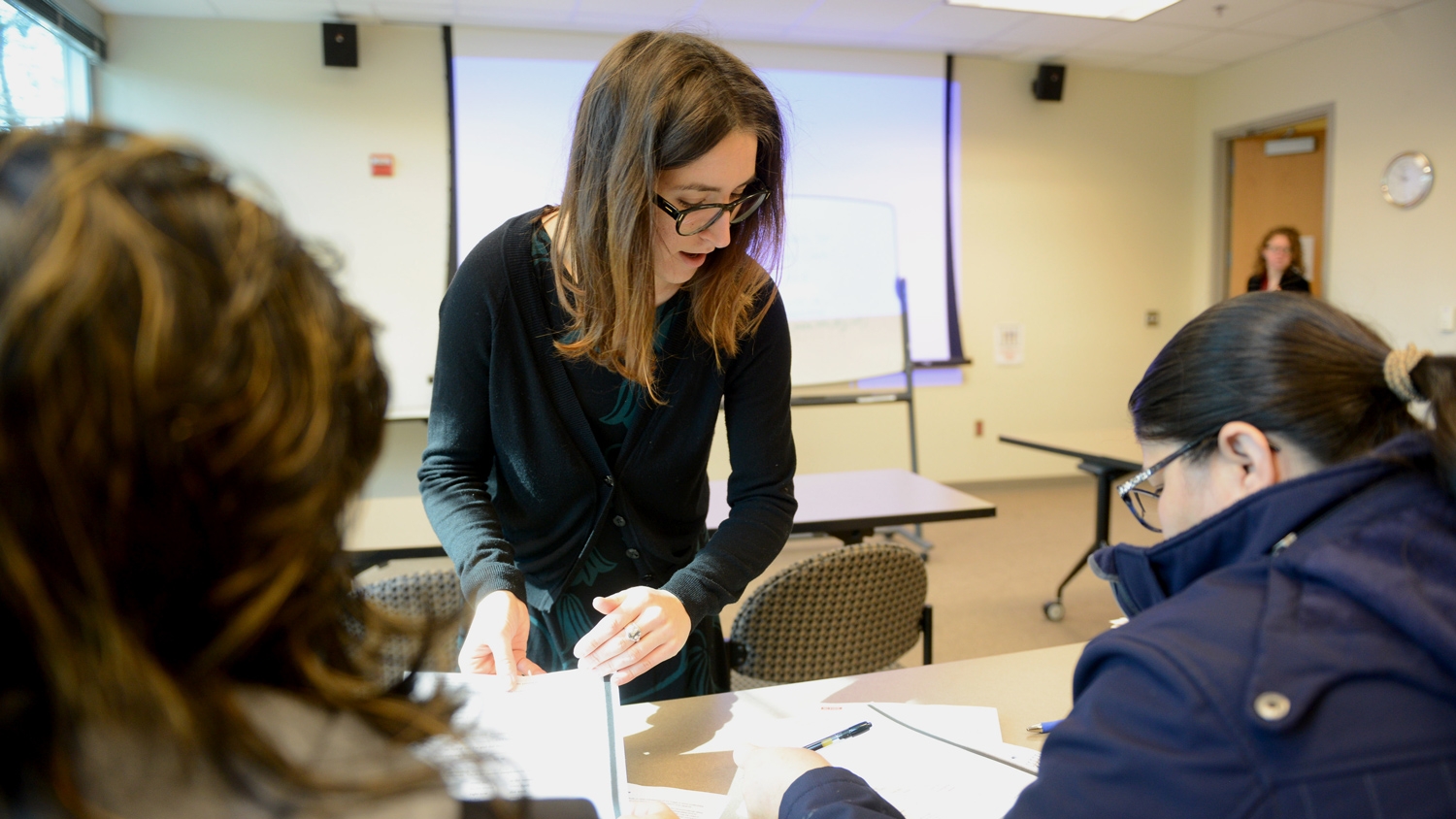 Tomasatti teaches the workplace communication course as part of a certificate she's earning. Known as TESOL, or Teaching English to Speakers of Other Languages, the non-degree certificate prepares instructors to teach English abroad, in community colleges, in immigrant communities — and in Tomasatti's case, in NC State's own backyard.
The TESOL program aligns with NC State's think and do mantra. Students take intensive online and in-class courses and also observe and practice teaching while they're in the program. The English learners in the classes they teach are sometimes NC State facilities staff. Other classes accommodate visiting scholars, international students and members of the Triangle community new to the United States and to the English language.
Robin Kube supervises the TESOL program. In developing the pilot classes for facilities, she quickly saw the critical need. "We could tell how desperately the facilities staff members wanted to speak to their supervisors, " Kube says. "They want to understand, and to be understood. We're excited that this partnership is underway. It's a real win-win. TESOL students have these classes to jump into as their internship placements. And we are pleased to provide instruction to a very motivated population of English learners."

TESOL Certificate by the Numbers
4 Months to Earn
through combined online and on-campus classes
30 Internship Hours
20 observing ESL classes; 10 hours core teaching
234 Program Completers
since NC State launched the certificate program in 2011
Tomasatti, a Fulbright scholar from Italy who's earning her master's degree in sociolinguistics, added the TESOL certificate program to her already rigorous academic agenda. "The skills provided through this certificate make me feel very useful," she says. "As a teacher, you can see how what you have learned can make a difference for someone else."
Tomasatti jumped at the opportunity to teach the facilities workers. "I feel lucky that I could learn English throughout my whole life," says the Italian native, who's also fluent in Spanish. "But I know that's not the case for everyone. These students know I've been where they are. I was in their shoes and I understand why they're struggling. I know how frustrating it can be when it's not your language being spoken, but you still want to communicate with the world. I bring a lot of empathy to this classroom."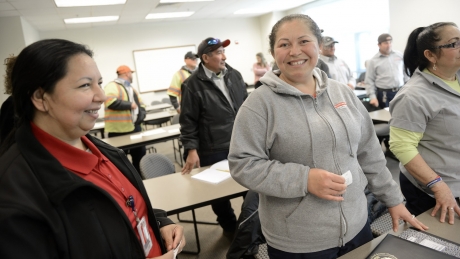 Her lesson plans encourage and teach her students what they need for the workplace. The students are learning, for example, how to describe the work they do.
But Tomasatti is careful not to overwhelm them in their once-weekly sessions. "You can't give them too much homework," she says. "It's one more thing in what is already a very busy schedule for these workers. Some of them wake up at 3 a.m. and put in a full shift before they get here for class. And some are going on from here to a second job. They're committed to learning, and they take great pride in what they're accomplishing."
As is common among first- and second-generation immigrants, many of the facilities workers' children serve as their interpreters. A number of Tomasatti's students have had to bring their children to work to help them communicate with their supervisors, or to fill out paperwork. "They tell me, 'I want to be the one who is able to communicate when I need to, and not rely on my children to be my translator.'"
Have TESOL, Will Travel
TESOL certificates equip instructors to teach English to immigrant communities or in classrooms around the world.
Since NC State began offering the certificate in 2011, demand has increased. "We thought our students would mostly be NC State seniors who were interested in living abroad," Kube says. "We were so wrong! About a fifth of our students are of retirement age, and that trend is growing. We've had doctors and engineers, people who want to volunteer for literacy centers and other nonprofits. There's an amazingly wide range of interests among our students."
Meet Some TESOL Certificate Holders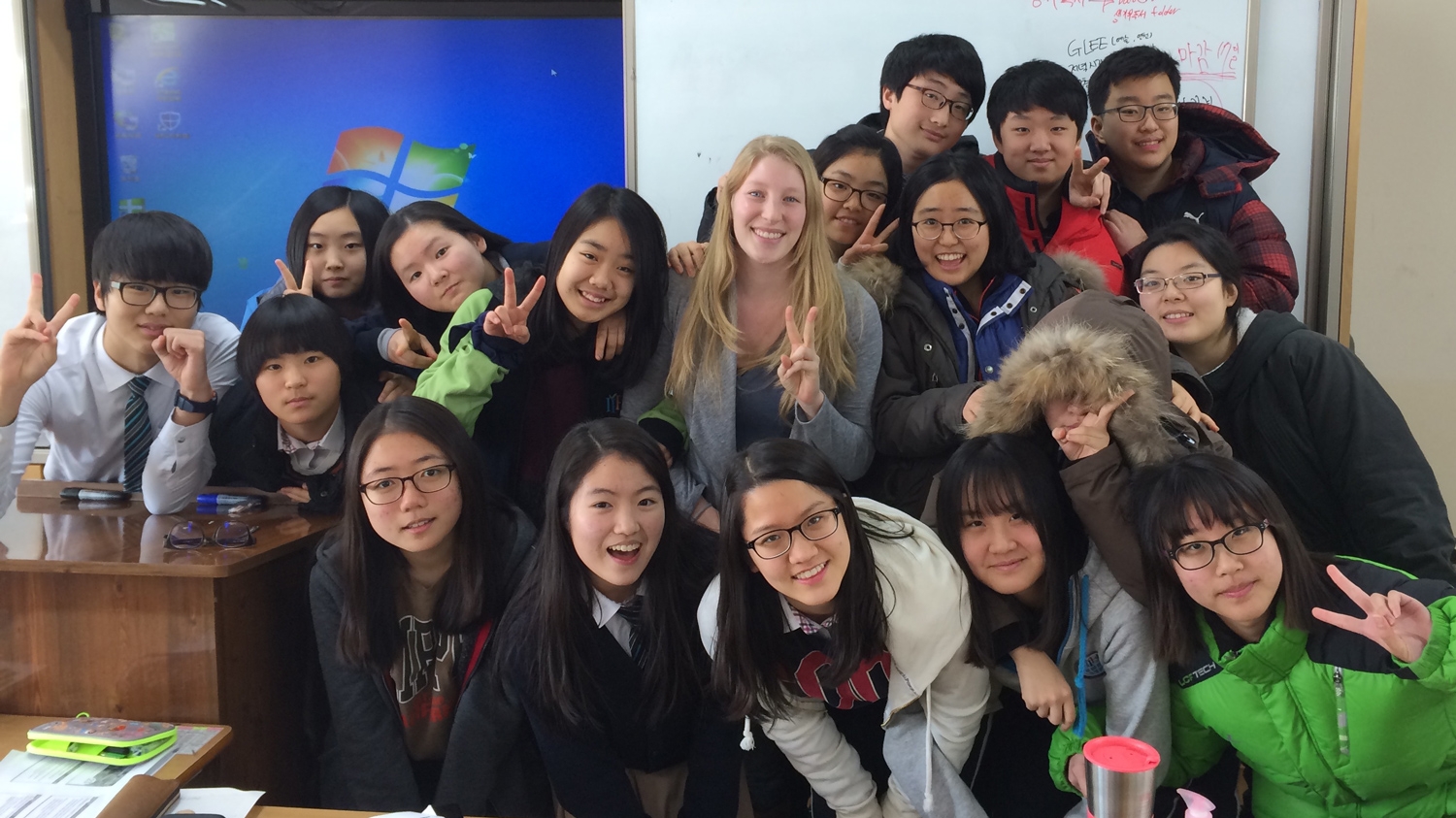 Mira Abed
Mira Abed (TESOL '12; B.S. polymer and color chemistry, B.A. international studies, '12) taught English (and math and science!) at an international high school in South Korea in 2013. Abed put the money she saved toward graduate school. Now she's earning her Ph.D. in fiber and polymer science at NC State. She's pursuing a career in science communication, using many skills she gained with her certificate.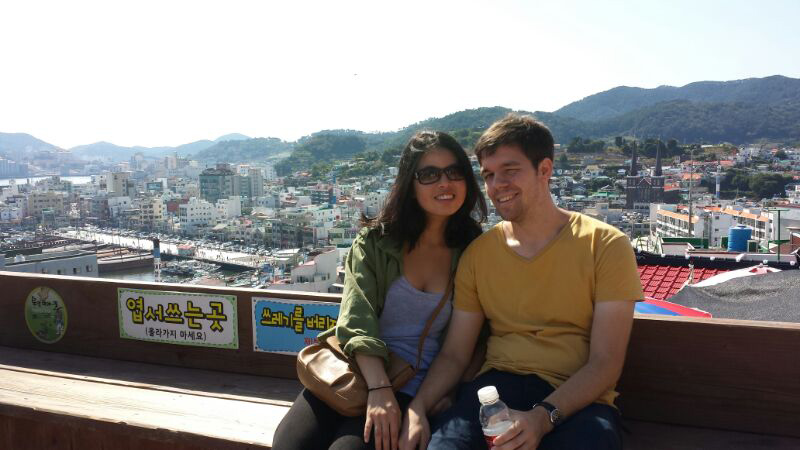 Kyle Davis
Kyle Davis (TESOL '11; B.A. political science and history, '11) netted a job teaching English in Georgia (the country), where he met his wife. They then taught English in Korea for two years, saving enough money for their wedding. Both committed to careers teaching English: Davis earned a master's degree and teaches in Wake Tech's TESOL Certificate Program. His wife teaches ESL in NC State's Intensive English Program.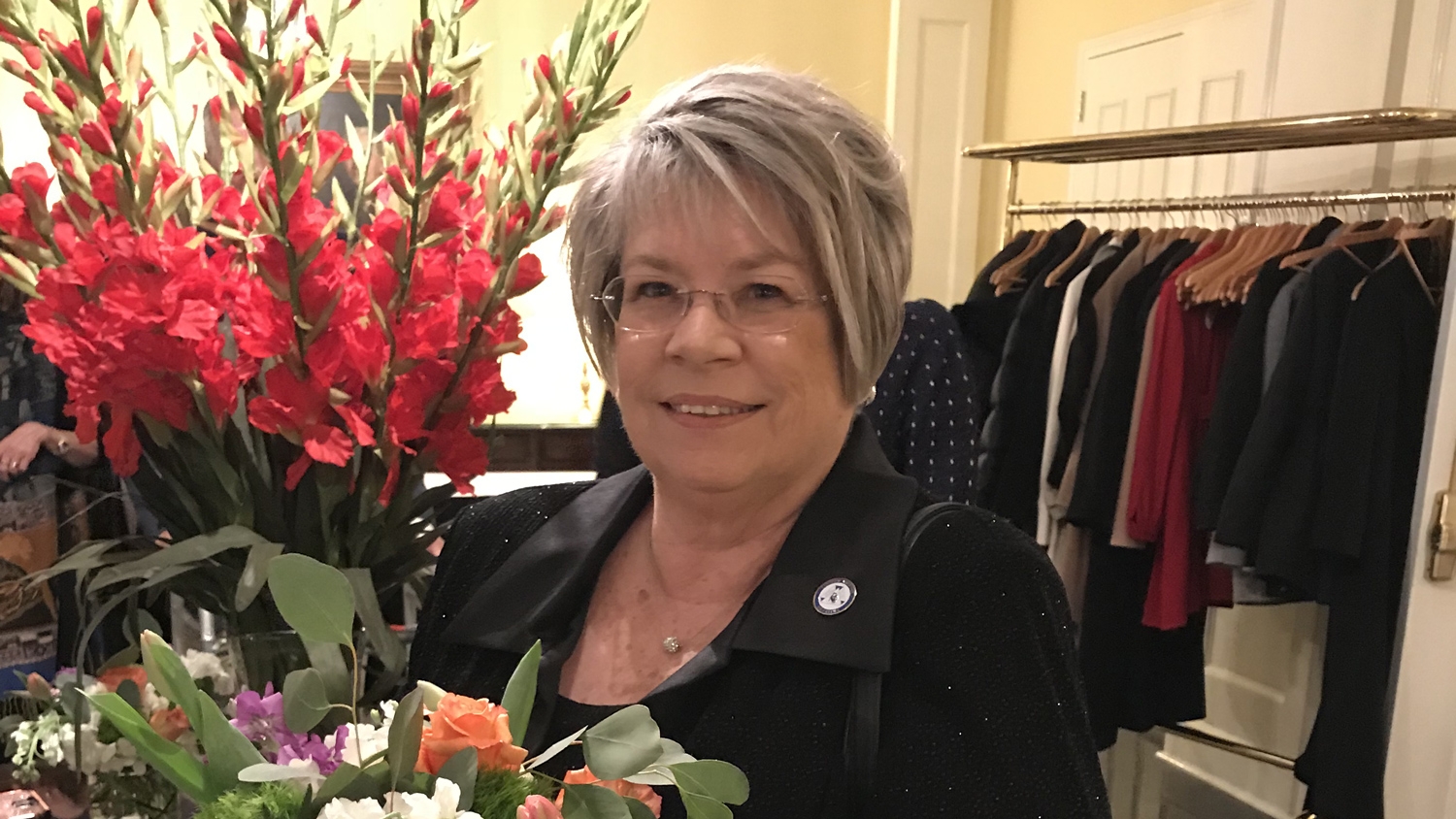 Carolyn Newman
Carolyn Newman (TESOL '13; M.Ed., Training and Development '11) has worked as an ESL instructor, first in a community college, and now with the Orange County, NC, Literacy Center. She also trains volunteers to set up ESL programs in churches. At her own church, she teaches and supervises nine volunteers who teach ESL students. "It seems that I live and breathe teaching ESL, and I love it," she says.
And for students graduating with a bachelor's degree who want to live abroad? "We can pretty much guarantee that if you earn your TESOL certificate and you want to go live in Asia, you will get hired to teach English," Kube says. "Students with just a bachelor's degree in any field plus this certificate are getting jobs in China, Japan and South Korea as soon as they finish. Not many programs can say that!"
Kube stays in touch with TESOL certificate earners. "I get emails regularly that say, 'I can't believe they actually pay me to do this!'" she says. "One fellow emailed me last week and said, 'This job is a dream.' It's very meaningful work, and we are extremely proud of our program completers. They are our global ambassadors."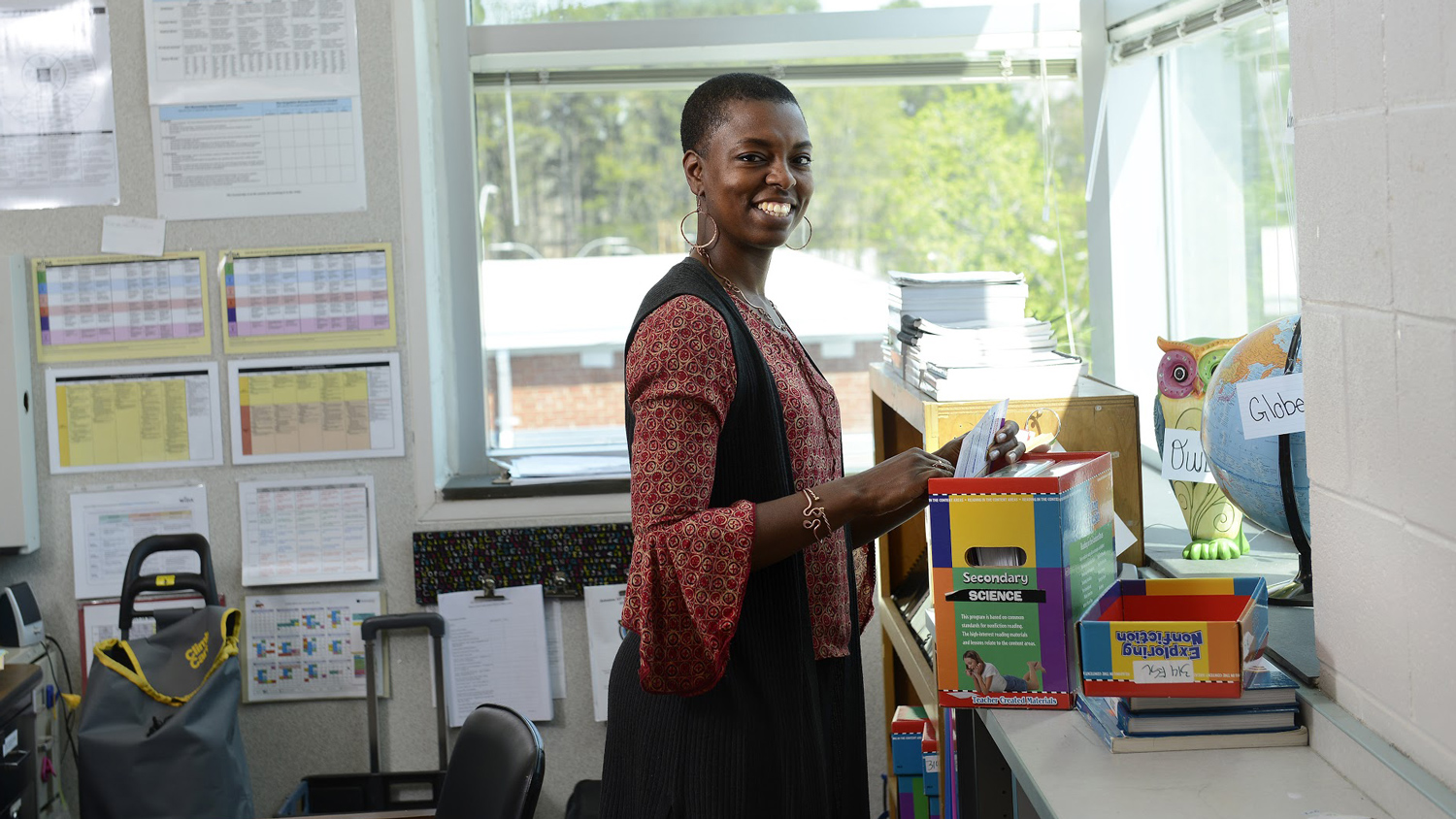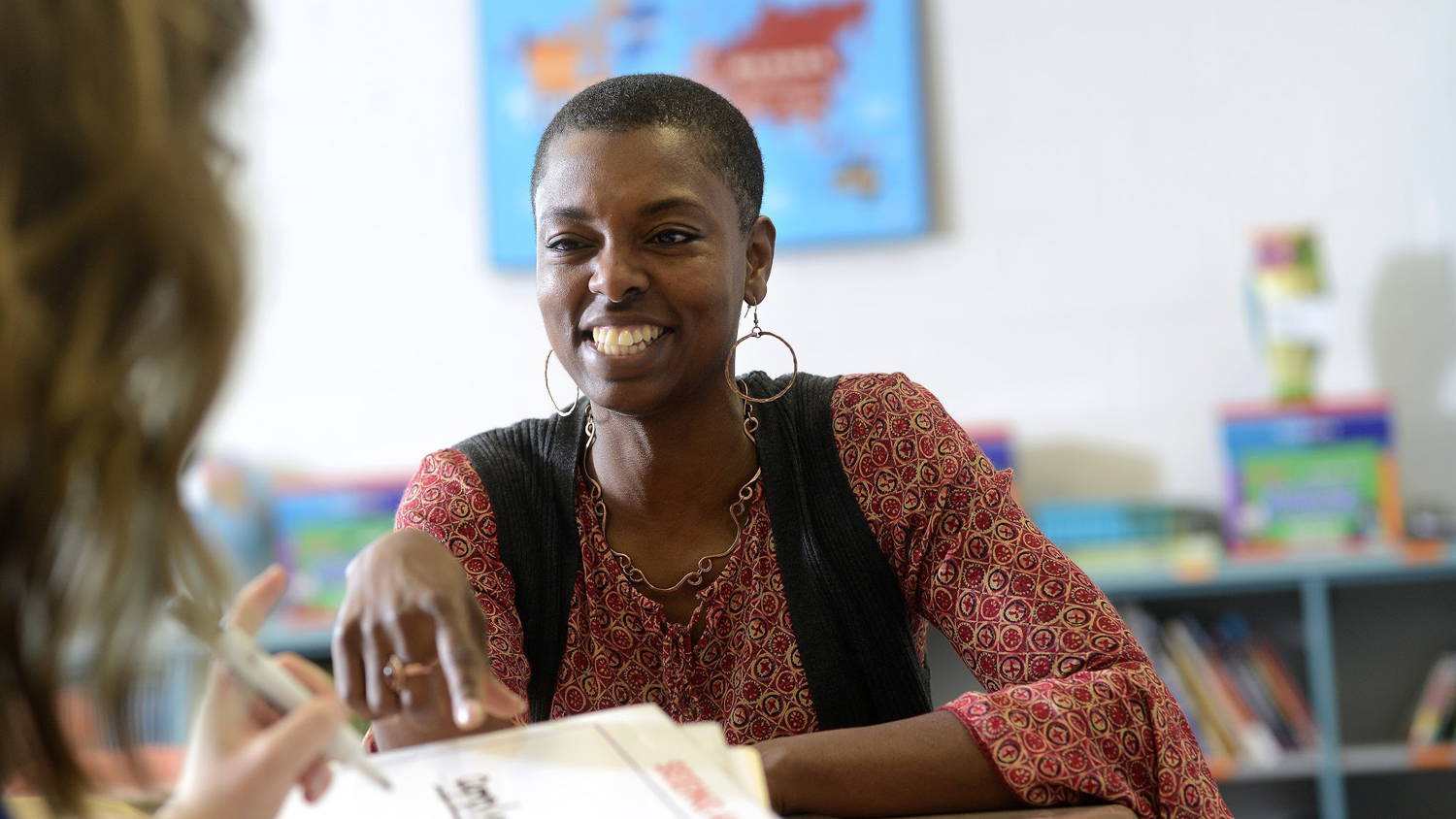 Helping ESL Students Find Their Voices
One thing Taura Simmons knows for certain: if you're teaching English as a second language to children, and you want to build their confidence enough that they can speak up in front of people, you're going to need to hone your creative superpowers.
Simmons, an ESL teacher at Zebulon Middle School, recalls a particularly reticent student who wouldn't speak above a whisper. That changed the day Simmons sent the student to the principal's office to lead the Pledge of Allegiance over the school intercom.
"She came back to our classroom so full of pride," Simmons says. "She found her voice. I haven't been able to keep her from talking ever since."
Now in her fourth year at the eastern Wake County middle school, Simmons is keenly aware of the myriad challenges her students face. While some students arrive fully literate in their native language, some have no English language whatsoever when they arrive. Many have had interrupted schooling, and are not literate even in their own language. Many have no study skills. They may be refugees from a war-torn area, or from a region plagued with gang violence.
I got real-world training at NC State to become an ESL teacher. And teaching is the most exciting thing I've ever done in my life.
"These students often don't have the language to share their stories when they arrive," she says. "That adds to the challenges of knowing how best to support them.
Simmons sees one of her primary roles is that of advocate. She tries to ensure these newcomers to the United States are integrated within the life of their mainstream classes, rather than paired up with another student who speaks their native language or sidelined working on a computer screen. She works to ensure they are fully engaged, listening to the teacher, their fellow students, and what she calls 'the melody of the language.'
"They need a lot of interaction with other students to learn how to negotiate their new language," she says, "whether they're playing sports, or at the doctor's office, or making new friends, or helping their parents navigate their new world. Learning a language as a foreign language is very different from acquiring a language."
Simmons makes time to offer workshops and to consult with the general education teachers at her school about the special needs of ESL students. She also conducts sessions for ESL peers throughout the Wake County Schools system and — with NC State's ESL Director Jillian Haeseler — for student teachers in the College of Education. "ESL is a different world, and it really requires special training," she says. "Little things — like making the new child an expert in his class around a particular topic — go a long way toward getting that student to participate, to be comfortable, to feel more a part of the class while he's still learning the language."
She credits her training from NC State's ESL program for fully preparing her as a teacher, advocate and leader. "I can't speak highly enough of the program," says Simmons, a lateral entry teacher who chose the field after a 20-year career in financial services. "I was able to work in the school while I was learning. The ESL faculty was very hands on and collaborative. We had regular access to professionals who shared their experiences and helped us reflect on ours. And even as graduates, we still have access to the program faculty, and they are phenomenal.
"I got real-world training at NC State to become an ESL teacher. And teaching is the most exciting thing I've ever done in my life."
Her goals for her students? "I want to give them tools not just to survive, but to succeed. It's about more than vocabulary. They need to learn how to communicate in their new language so they can express themselves, so they can read newspapers and textbooks with deep comprehension, so they become citizens who can make educated, informed decisions."
CATEGORIES: Foreign Languages and Literatures, Spring 2018